Introducing D4H's Mobile App for Equipment Management—making barcode scanning easy
A lack of equipment readiness can risk your mission; with potentially fatal consequences. We've created a powerful equipment management mobile app to enable you to take control in the field.
The companion mobile app to D4H Equipment Management is available on the iOS App Store and Android Google Play Store. An upgrade from before, this new app enables you to check in on your equipment from anywhere, on any device to see the real-time availability and status of each item.
Equipment management on-the-go means that personnel can jump in during live operations and update the status or move an item to a new location. View progress as team members completes repairs and inspections. Everything from your equipment stockpile is available, so you can refer to quantities or check an expiry date to make a decision no matter where you are.
Sign-In With Username & Password
We've replaced the old API Token sign-in with a username & password.
Switch Team
If you've got multiple teams, you can easily switch between them in the menu.
Recently Viewed
Your home screen now features a quick-menu option of recently viewed items so you can quickly get back to where you left off.
Item Action Menu
After opening any item, you can quickly single-touch into 'Repair', 'Move', or 'Inspect' it.
Keyword Search
Search for equipment by keyword, ref, or barcode to quickly find an item.
Barcode Scanning
Open the camera to quickly scan the barcode on an item to open its quick action menu in the app.
Scan Barcode to Associate
Open an item and associate a barcode with it by just scanning it.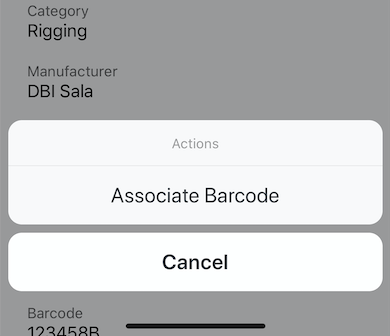 Move Items
Scan or search for an item, and move an item from its location along with all of their children.
Carry Out Inspections
Inspect an item on the move, in the field, or back in the warehouse.
Manage Repairs
See all repairs due at your location or on the item you've just scanned.
See Contents
See the contents of an item when you click into it.
View Item Profile
See an item and all of its custom field data from your mobile device.
Update Status
Update an item status between operational and unserviceable. Leave a comment in the Service Records when you do.
Browse Categories & Kinds
Overview your equipment to see it by category and kind.
(Note: Attentive users will note we made this app available in the app store a few weeks ago, but delayed this announcement until most COVID-19 responses had stabilized.)