"Dealing with 1-in-100 year New Zealand Floods" with Waimakariri District Council
On May 30th 2021, the South Island of New Zealand was hit with a deluge that forced hundreds of people in the Canterbury region to evacuate their homes. Robin was joined by Brennan Wiremu, Emergency Management Advisor at Waimakariri District Council to learn how they kept people safe and coordinated the district's response and recovery.
Where is Waimakariri District Council located?
Waimakariri District Council is located on the South Island of New Zealand in the province of Canterbury, which is the closest population to Antarctica. The region consumes about one-third of the landmass of the South Island.
What are the threats in the area?
The Alpine Fault is a very large and long ridgeline of alpine mass that separates the east coast and west coast of New Zealand. On the South Island of New Zealand, there is a huge volcanic earthquake faultline that runs nearly the full length of the island. This is a massive risk for New Zealand, particularly for the South Island. Should the faultline rupture, it would likely create an earthquake of magnitude 7 or higher.
The local emergency management agencies are charged with civil defense emergency management, particularly around natural hazards. For about two years, the councils have been engaging their local communities in planning for the effects of a magnitude 8 earthquake. Planning for Waimakariri and Canterbury as a whole also involves what they can do to help the west coast of the South Island, as they would likely be the worst affected by a magnitude 8 earthquake from the South Island Alpine Fault, also bearing in mind that air and see will probably be the only way to move around in the aftermath.
Flooding is also a major threat to the Waimakariri District, and much of Canterbury shares this risk profile. There are two large glacial-fed rivers in the region, the Waimakariri River and the Ashley River. Further, there are a number of smaller rivers that are fed from the alpine region.
The recent flooding event
On Sunday 30th May 2021, Canterbury was hit by a significant rainfall event that was predicted three days in advance. The Emergency Operations Center was activated and remained open for two weeks while they underwent the largest ever planned and ordered evacuation in the history of the district. The evacuation spanned three geographical areas and affected 2,000 to 3,000 properties across the district.
Waimakariri is characterized by having many lifestyle farmers; rather than commercial farmers, they are hobby farmers with land and animals for recreational purposes. Flooding events have a significant impact on these farmers.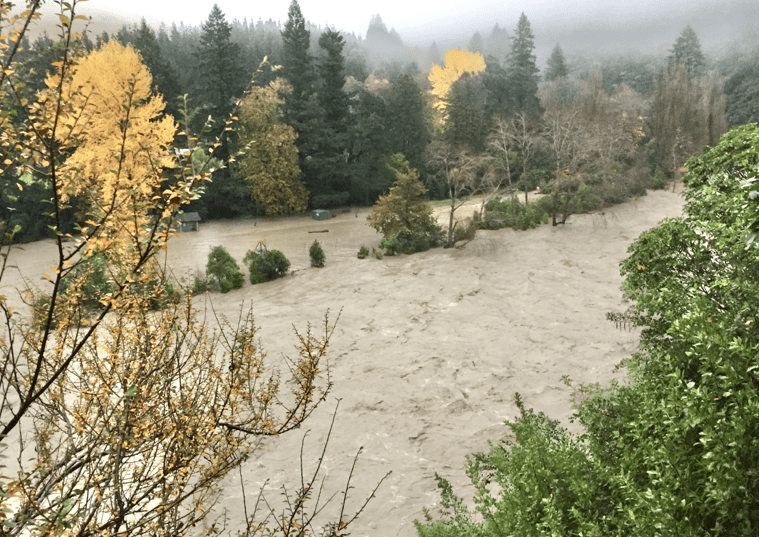 The Evacuation
Waimakariri District Council used their GIS mapping tool to annotate polygons of evacuation areas. They then shared this map on Facebook and the council's public website. In New Zealand, they also have a warning system that enables them to send a message to every smartphone in a given area. They used this system to share the evacuation map by smart message and instructed anyone in the areas marked to evacuate. Further, emergency responders in uniform and emergency vehicles with lights and sirens went door-to-door to tell people to evacuate their homes.
Many people evacuating went to stay with friends and family outside of the danger zone. Local community halls that belonged to the local district council were also opened up for people to go to for shelter, and in some cases, there was staff managing the centers.
The impact
Brennan gave the example of a very rural area and one particular 10-acre property that had an entire river flowing through it during the floods. This agricultural property lost all of its livestock and was covered in about 2 meters of river shingle following the floods. Luckily, the inside of the property avoided damage.
Waimakariri has a comprehensive road network that means it is difficult for communities to become isolated as there is always another route to take. However, one small commercial farming community on the western plank close to the Alpine Region was completely isolated for about three weeks due to the floods. Access to food and water was not a big issue for them as they were self-sufficient for food, and had access to tools to fix and plumbing issues. In the district plan rules, any rural area must have its own water supply in addition to the one that the council provides.
The below photo is of the Waikuku Beach Holiday Park, which was also severely flooded.
Learning opportunities
Overall the response was very efficient and well managed, however, every with every emergency comes an opportunity to learn and improve future responses. One change Waimakariri District Council will be making is increasing the threshold of the number of staff needed in their EOC during an emergency, particularly GIS and Communications staff.
Waimakariri District Council will also be providing flood response resources that they can use on people's homes and outside businesses. They now have an inventory of sandbags and flood protection devices and volunteers that are trained to distribute and use them. They are also spending more resources on public education programmes to encourage people to invest in preventative measures themselves and instruct people how to use flood protection devices.
How many staff does Waimakariri District Council have?
The Waimakariri District is one of 10 local councils across the province of Canterbury, and they are the third largest district both geographically and in terms of population. Waimakariri has a population of about 55,000 people. By comparison, Christchurch City has about 240,000.
Waimakariri's council staff is about 440 people overall, including part-time staff. Seventy-one of those staff are trained in how to work in the district's Emergency Operations Center. They also have a further 72 adult trained volunteers. Waimakariri has also taken a strategic approach to enable communities and neighborhoods to have their own emergency plans rather than have a high dependence on local authorities. Waimakariri District Council provides the necessary resources to help them achieve this as they have found it to be the strongest approach for preparedness.
How Waimakariri District Council uses D4H in their Emergency Operations Center
By using D4H Incident Management emergency management software and D4H Personnel & Training software in conjunction with ArcGIS mapping, Waimakariri District Council is able to identify who needs help, where the physical problems are geographically, who is available to respond to those needs, and who has been deployed.
"We absolutely love D4H. All ten councils in the Canterbury region are now using D4H along with a number of councils in the North Island."

Brennan Wiremu, Emergency Management Advisor, Waimakariri District Council.
Waimakariri District Council creates all of its action plans in D4H. They capture all information reported to them in various status boards, and most importantly, they use D4H to capture what they will be doing with that information. They also use D4H Incident Management's 'share by email' and 'share by public link' functionality to share critical information with critical service providers and local agencies that they work with.
Watch the full interview